Got questions? We've got answers! Check out our most Frequently Asked Questions page below for answers to any burning questions you might have about IPL hair removal and our IPL handsets.
If you can't find what you're looking for here, simply click on the pink circle with the speech bubble in it to chat to us online right here from our website.
Light energy from IPL is absorbed by the melanin in the hair, which then turns to heat and destroys the hair cells.

What is the difference between the Classic handset and the Gen.2 handset?

We've taken everything customers love with our HappySkin Classic handset, and have created our best handset yet… the HappySkin Gen.2! We've upgraded everything we possibly could. The HappySkin Gen.2 is more powerful (with the energy output level of 1.5-5.5J/cm2), has a 20% larger light window, which means faster sessions. Has 500,000 flashes, meaning it will last you 20+ years. A quieter, more efficient fan. A 1-year warranty AND lifetime servicing (yep… lifetime!). You will also have access to our dedicated results team and not to mention, the sleek new ergonomic design we've created.

What is the difference between IPL hair removal, and laser hair removal?

Both IPL and laser hair removal uses light, and in turn heat, to destroy the hair from the root. The main difference between IPL hair removal and laser hair removal is the light spectrum used. IPL uses a wide range of wavelengths of light to produce a single white flash, whereas lasers use one wavelength of light which creates a single beam.

Do you have a money back guarantee?

Yes, we do! We have absolute confidence in providing you with the best at-home IPL Laser Hair Removal Handset in the world. That's why we're proud to offer our day 90-day 100% Money-Back Guarantee. You can read more about it here.

Can I buy now and pay later?

Absolutely! Get your IPL Laser Hair Removal handset now and pay later interest-free with Afterpay.

Does the handset have a warranty?

All handsets come with a 12 month warranty, that covers any manufacturer faults. If you are having any issues regarding your handset, please contact us at hello@happyskinco.com.

One of the biggest advantages of IPL over other types of laser is that it is far less painful. Most customers explain the feeling as a warm sensation on the skin.

Will this work on sensitive skin?

Our handsets have been designed to be suitable for at home use, so is gentle on skin. This means that is suitable for sensitive skin types too!

Most customers begin to notice a reduction of hair after just 3-4 treatments, with complete results after 12 treatments. However, results vary from person to person.

We recommend using your handset once a week for the first 12 weeks. After this period use your handset once a month, for 3 months or until satisfied. To maintain hairless smooth skin, use your handset once every 2 to 3 months, or as needed. There is no need to use it more than once a week, as IPL is only effective in the growing phase of your hair cycle.

Are there any side effects to IPL?

When using the handset as recommended, side effects are rare. Redness and swelling is the most common side effect from IPL, which will quickly subside after treatment.

Which areas of my body can I use this on?

You can use your handset on your entire body, including your Brazilian and face (just be sure to not get too close to your eyes).

I have PCOS. Will this work for me?

IPL can definitely be used on hormonal hair growth, and has proven to be quite effective. Check out some results for yourself here.

I have epilepsy. Is IPL suitable for me?

IPL will not be suitable for you if you have epilepsy.

There is slight blackening in the light window. Is this normal?

As there is heat involved, slight blackening on/around the light window is normal and will not affect your handset, how it works or the results at all.

Is it normal for there to be a slight burning smell when using the handset?

Yes, this is completely normal. As the light energy is heating the hair, you may smell a slight burning but this just means there may be some hairs that have not been shaved. Please ensure that you have prepped the skin correctly, and that the skin is completely shaved before starting your session.

How do I clean my handset?

Cleaning of the handset is advised after each use. You can use an alcohol wipe, or any antibacterial product to clean down the handset and the light window after treatment. Ensure your handset is powered off, and not plugged in before doing so. You should then store the handset in a cool, dry place after use (once the handset is completely dry).

Will I be charged a custom/duty fee?

Shipments to the UK do require an import and customs fee to be paid, if the goods are over £135. We have included the fee in the final price for you, so there will be no further payments needed once you have placed your order!

What is the recommended age to use the handset?

We advise that users of our handsets are 16 and older.

There have been numerous worldwide studies that demonstrate the safety and effectiveness of IPL for hair removal. Due to this fact, it has become an extremely popular safe and effective method of hair removal at home and in clinics.
No, it isn't necessary to wear eye protection while using our handset. Our handsets are fitted with a sensor and will not pulse and light unless the entire window is pressed against your skin. That being said you should never try and look directly into the light as it flashes

How many years will this product last?

How strong is this product and what is the energy output?

Our handsets have 5 different levels of intensity that ranges from 1.5-4.9J/cm2 with our HappySkin Classic handset, and 1.5-5.5J/cm2 with the HappySkin Gen.2 handset.

Do I need to shave before using this product?

Yes, you should shave the desired areas before using your handset. A close to skin shave is best recommended. The goal is for the light energy to reach the hair follicle as quickly as possible, so shaving beforehand is essential to achieve the best results. The hair follicle does need to be in tact for IPL to be effective. This means no waxing, plucking, threading, epilating etc.

Between treatments you should only shave when required. You should never wax, pluck, or epilate as these hair removal methods removes the entire root, which is what absorbs the light during the treatment.

Are there any reoccurring costs?

No. This product is a once-off purchase. There is absolutely no need for replacements or refills.

Does IPL work for all skin tones?

IPL is suitable for all but the darkest skin tones. This is because the light energy may be more attracted to the pigments in the skin rather than the melanin in the hair. Refer to the skin tone chart below to see whether or not IPL is suitable for you.

Does IPL work on all hair colours?

IPL relies on melanin in the hair absorbing the light energy, and therefore IPL is not effective on very light blonde, red, or grey coloured hair.

Can I use IPL while pregnant or breastfeeding?

Although there is no evidence showing that IPL has negative effects on pregnant or breastfeeding women, we still don't recommend using our handset as a precaution.

Can I use IPL over freckles or moles?

You should not IPL over very dark freckles or moles, however light freckles are fine.

Can I use IPL over tattoos?

You should not IPL over tattoos. The light energy will be more attracted to the pigments in the skin, rather than the melanin in the hair which can cause a reaction in the skin and blistering. You should always go around your tattoos.

Can I use this product before or after tanning?

If you have recently been sun tanning, we recommend waiting 2 weeks before using your handset. You should wait 48 hours to tan after using your handset. The same applies for sun beds. We advise removing all artificial tan before using our handsets, as the light energy may be more attracted to the pigments in the skin, rather than the melanin in the hair. You can reapply the tan after your session once the skin has relaxed.

How is the handset powered?

Our handsets are not cordless, and will need to be plugged into the power supply at all times of use. Our handsets come with a 3 metre, 12v power supply.

Does this remove hair permanently?

You actually have to be careful when anyone claims 'permanent' hair removal as all forms of IPL/Laser hair removal require some maintenance, or eventually the hair will start growing back. After completing your initial sessions with our handsets you will only have to use your handset once every 3 months to maintain smooth, hairless skin.

What modes does the handset have?

Our handsets have 3 modes you can use it on. Manual mode, where the handset will flash as you press the trigger button. Glide mode where it will flash, once the handset is ready, as you hold the trigger button down continuously. Auto mode, where the handset will flash on its own (when ready), without you pressing any buttons at all.

Can I share my handset with someone else?

Yes, you can. This may decrease the lifetime of the handset per user. You should also always thoroughly clean the handset after each use.

Is this suitable for men?

Definitely! Our handsets are suitable for both men and women.
Happy Skin Gen.2
£199.00
£139.30
You save 30%
Buy Now, Pay Later with
or 4 interest-free payments of
£34.82 GBP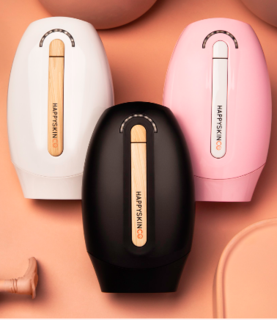 Happy Skin Classic
£180.00
£127.80
You save 29%
Buy Now, Pay Later with
or 4 interest-free payments of
£31.95 GBP

New